Following the Home Improvement Money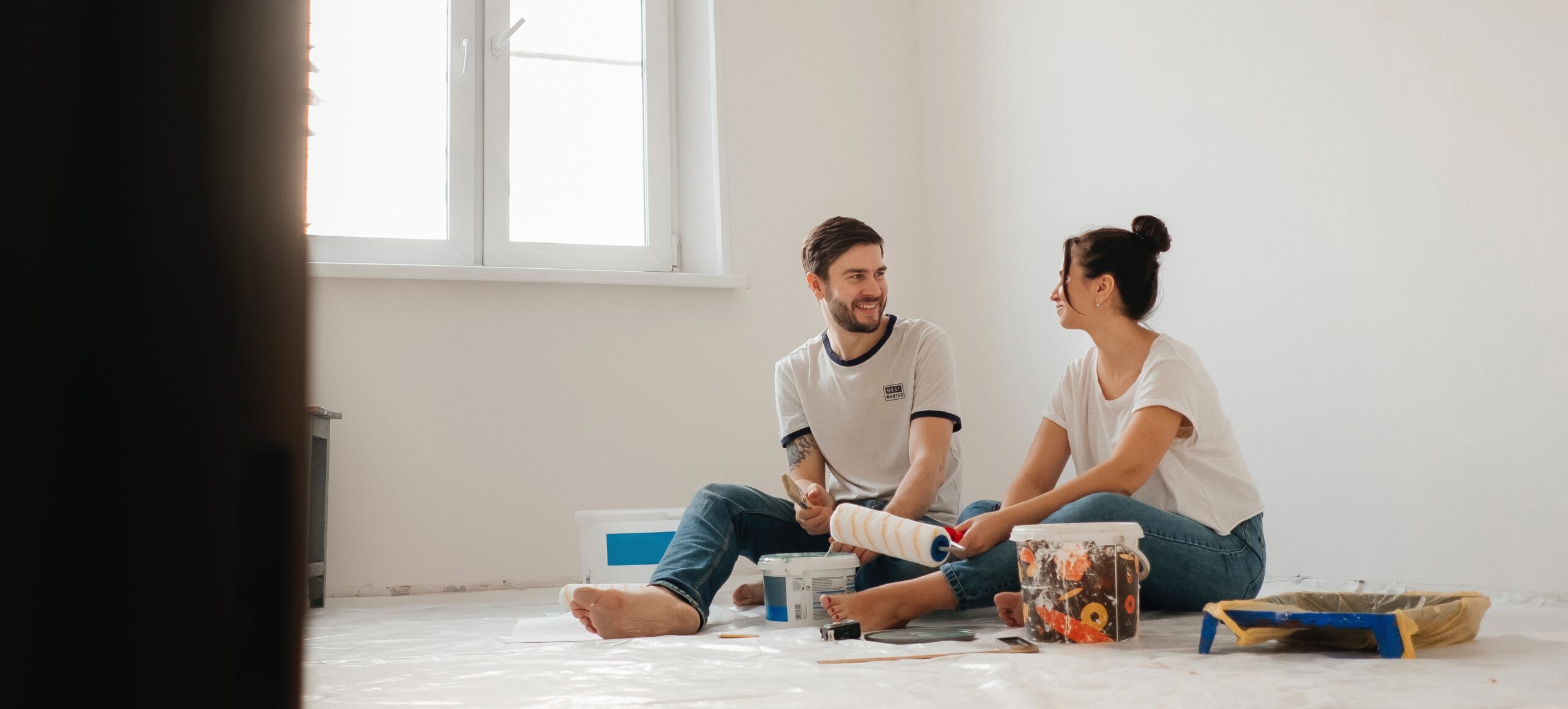 In our last blog we highlighted how Catapult Insights' Homeowner Home Improvement Survey indicated that the majority of homeowners feel comfortable investing in their home and 85% have at least one home improvement project planned in the next year.
Next, we're diving deeper into some of the key types of projects that are on homeowners' lists – painting, plumbing, flooring and kitchen appliances.  Here's what you should know:
Interior paint is the #1 planned project among homeowners and most plan to DIY. Spend varies, but 60% plan to spend under $500. However, some homeowners might be in for a surprise when they shop for paint as it is another product that is experiencing price increases this summer.
Fewer homeowners are planning an exterior painting project (16%) but among those who do, over half plan to hire a professional.
New kitchen appliances are high on homeowners' lists with a quarter planning to purchase them in the next 12 months. They're going to be a big investment for them too with 65% planning to spend at least $1,000 on new appliances.
1 In 5 homeowners have a flooring project planned in the next 12 months. This type of project is the most professionally-oriented project on our list with 60% indicating they plan to hire a professional. It's no wonder given half plan to spend at least $2000 of their hard-earned money on this project.
1 in 5 homeowners plan to purchase/install new plumbing fixtures in the next 12 months. Half plan to spend at least $500, and nearly a third plan to spend $1000 or more. Homeowners tend to lean more on professionals when it comes to plumbing fixture projects with a little over half planning to hire a pro for their next project.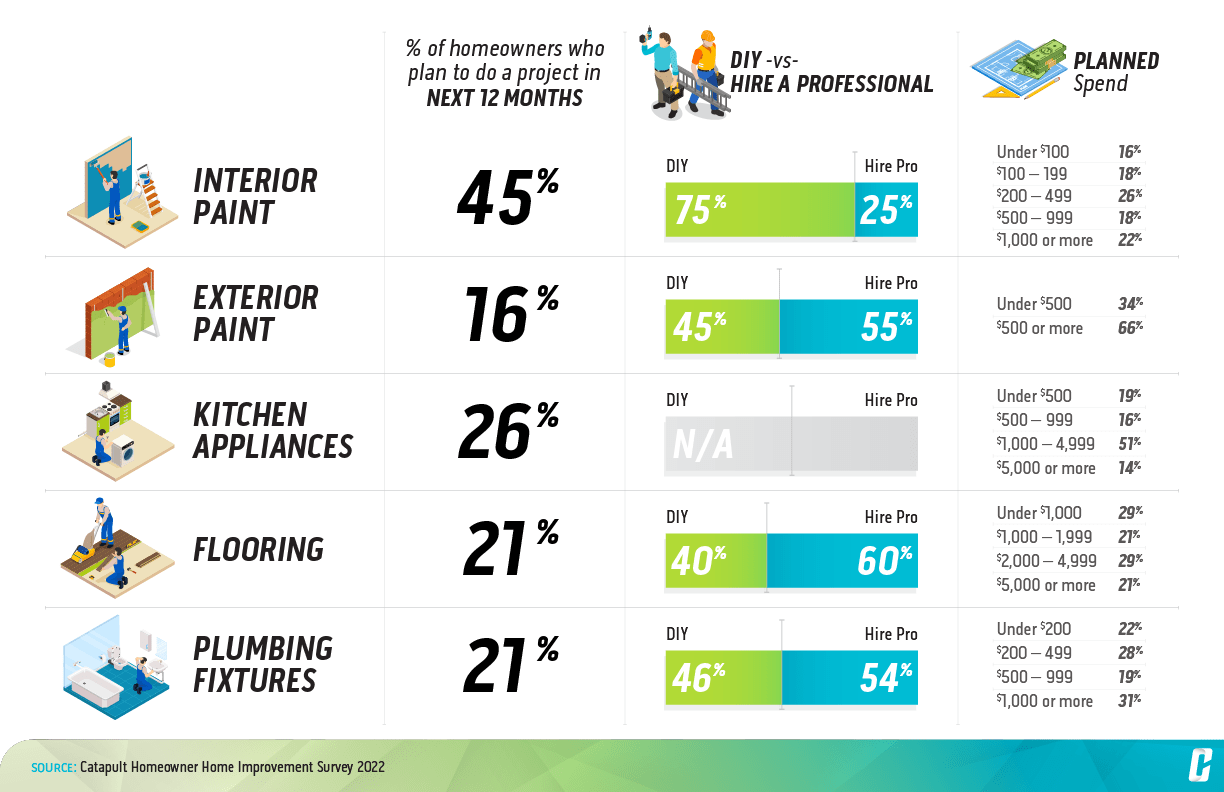 Here are a couple of things to think about to make sure your brand gets a piece of the homeowner home improvement budget pie:
Understand the journey homeowners go through in your category when deciding where, how and what to buy. In our last blog we talked about how consumers' journeys have drastically changed over the last few years.  With inflation driving prices up, we speculate that consumers could be in for a rude awakening right at the beginning of the journey when they start to estimate what their project will cost. This could cause them to either adjust their budgets or scope of projects. If you haven't updated your understanding of your category's consumer journey, now is the time. People have money to spend, time to do the work, and an interest in investing in their home through improvements. Make sure your brand is there to support them at the right points along their journey and can ease the pain points they experience along the way.
Revisit your approach to supporting consumers during their home improvement projects to make sure you're building bonds and leading them to success. Helping homeowners get it right on the first shot will be critical. Redoing work is prohibitively expensive for more homeowners, so choosing the right paint colors, fixtures, materials, etc. will likely be more stressful and important than ever. Look for ways to assist in the shopping journey that lend assurances and help homeowners visualize before they commit. Tout return/exchange programs and recertified offerings to help shoppers buy with confidence. Look for ways to help homeowners feel like you're in this project with them and committed to their success.
In our next blog, Catapult Co-Founder, Justin Sutton, is going to take a look at homeowners' outlook on the world. He'll explore what they're thinking about, concerned about and talking about to provide context and understanding around the decisions they make.
Jill Miller
CO-FOUNDER
CATAPULT INSIGHTS
The Catapult Homeowner Home Improvement Survey was completed in July 2022. A representative sample of 1,090 US homeowners age 25+ were recruited from the Full Circle Panel and completed the short online survey. Contact Catapult Insights at [email protected] for more information.
Subheading: About Catapult Insights
Catapult Insights in an outcomes-focused insights and innovation consultancy that uses research as a foundational tool to help brands grow, evolve and future-proof their businesses. Catapult creates customized creative solutions to tackle specific needs, adapting their approach to answer clients' biggest questions.  Their robust suite of research methods and consulting approaches gives clients an accurate picture of people today: their needs, motivations, and behaviors, as well as a predictable view into the future.
Subheading: About Full Circle Research
Named the 2021 Panel Company of the Year by The Marketing Research and Insight Excellence Awards (powered by Quirk's) and a staple on Inc. 5000's Fastest-Growing Companies ('17, '19, '20, '21), Full Circle leads the industry in data quality and niche communities. The only US-based, online consumer sample provider certified to ISO 26362; now certified to ISO 20252; and the Promoter of #QualityForAll, Full Circle's award-winning survey experience HoNoR (Holistic Next-Level Research)® marries advanced tech, flexible community strategies and industry-leading quality controls to deliver immediate access to proven-purest data. One of the highest-scoring businesses on Inc.'s 2022 Best Workplaces list, Full Circle's foresight, agility and innovations are a direct result of a uniquely consultative approach delivered by diverse industry veterans. To learn more, visit iLoveFullCircle.com