Trying McDonald's New Order Ahead Lane  
My history in QSR research leaves me endlessly fascinated by the advancements in customer experiences within the category. When McDonald's opened a one-of-a-kind concept store close by I knew I had to try it.
McDonald's interesting new concept is an order ahead drive thru lane designed to save customers time and make it an easier choice for fast food on the go. It uses the McDonald's app, which also happens to be the most downloaded QSR app of 2022, to collect customer orders. My first experience using it was only their third day after launch, and already the overall experience was a 4 out of a 5-point scale, and I plan on using it again.
The restaurant itself is focused on drive-thru and pick-up for delivery drivers. Inside, there is no dining room or cashier; just an open space with a long counter and 2 kiosks. A separate door is dedicated to delivery drivers who are greeted by a walk-in-closet sized room with a pickup window. Outside there is a traditional drive-thru with speaker and menu board like you'll find at any McDonald's.
A separate "Order Ahead" lane in the drive thru is dedicated to customers who place app orders for quick pick-up, which is what I did.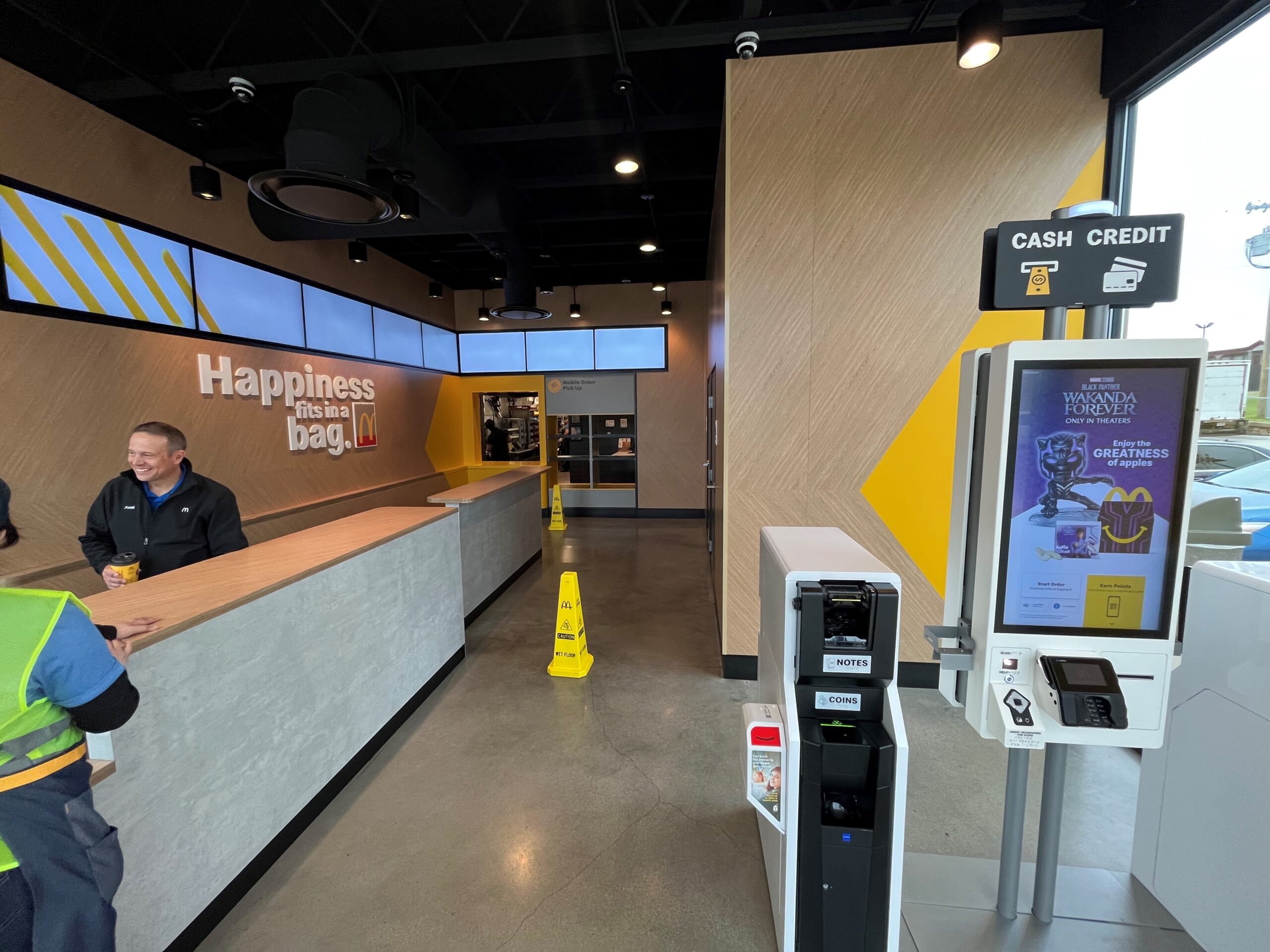 MY EXPERIENCE
Placing the order and paying in the app came with few surprises but had me asking when the food was going to be assembled. Is it when I submit the order in the app? Is it when I arrive at the restaurant? I felt unsure, so I waited to submit my order until I was at a stoplight down the street.
The building was almost entirely wrapped by cars in the traditional drive-thru lane, but the order ahead window was completely empty. I pulled right up and saw that it is totally unmanned, and a vertical track with empty serving trays was continuously moving. Next, I was greeted by an employee through a speaker, who asked for my order number from the app and quickly confirmed the items.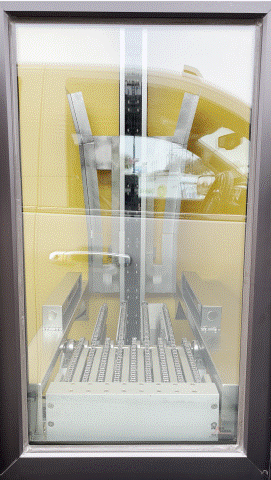 Then came the part I had been anticipating as one of the serving trays on the conveyor system had my bags on it. My order was pulled forward and the glass door opened, making it a literal grab and go moment. The whole thing went so smoothly it almost didn't felt as if they had been practicing and perfecting this operational feat for some time.
As I pulled away, I looked at the traditional drive-thru line for the last car in line when I first pulled into the parking lot. She hadn't even made it to the menu board and speaker yet. I pulled into one of the few parking spots and waited about 5 minutes before that car finally pulled away with her order. Not too shabby considering it took me about 2 minutes in the app to place and pay for my order, but the real difference is that I was able to do that part on my time.
HOW IT WORKS
I went inside to check out the layout and ran into the Operator of this location. We had a great conversation about how it's been going, and I could sense how excited he and the crew were to be part of something brand new.
My experience conducing QSR research told me that customers would be looking for speed, order accuracy, and freshness for repeat trial to occur. As it turns out, they use geo-fencing to monitor customers entering the vicinity. This presumably lets them determine when to start pulling an app order together, and when the customer confirms their order number at the order ahead window it's sent through the conveyor system. This helps them deliver fresh food, and mine certainly was hot. A variety of tech is also used behind the scenes to boost order accuracy, including video monitoring and x-ray scans.
I plan on returning for another visit once the store has been open for a few months and reconnecting with the Operator to discuss how it's been going. Between my positive experience and his enthusiasm, I would expect to hear great things.
My last post discussed the post-pandemic romanticism of in-person experiences, and this new approach from McDonald's is a great example of blending traditional and digital ordering experiences. Considering the incredible volume of mobile ordering apps downloaded in 2022 it's safe to say that this mode of ordering is here to stay, and QSRs will be busy learning about best practices, CX, and how different order journeys intermingle within the lives of their customers in 2023.
Justin Sutton
CO-FOUNDER
CATAPULT INSIGHTS